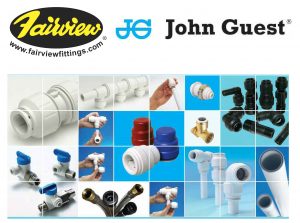 November 2016
John Guest Speed-Fit® and Push-Fit Products Now Available from Fairview Fittings across Canada.
Fairview Fittings & Mfg. and John Guest USA Inc. are pleased to announce that they have entered into a Master Distributor Partnership agreement that will see Fairview warehouse and distribute John Guest Speed-Fit®, Polypropylene Push-Fit fittings and valves for plumbing, industrial, pneumatic, OEM, marine and RV applications.
Since opening its' factory doors in 1961, John Guest has earned a reputation as a world leading manufacturer of Push-Fit fittings, tubing, and other fluid control products. The billions of JG connectors currently in use around the world on a wide variety of application types have proven to be the company's strongest endorsement.
Fairview Fittings & Manufacturing was established in 1969 and has become an international leader in the manufacture and distribution of industrial quality hose, valves and fittings. Fairview inventories more than 15,000 active products in 9 stocking locations across North America.
Please contact your nearest Fairview location for product and ordering information.
john-guest-plumbing-Fairview-2016